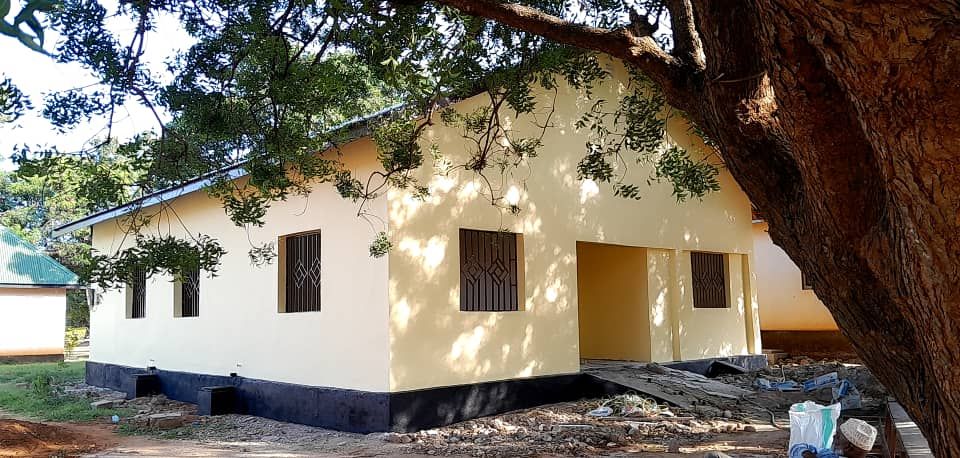 24 Apr

TAUS Supports Mtwara Adventist Dispensary Prenatal and Postnatal Care
By: Ephraim Nkonya (TAUS); Dr. Watson Mwaibasa (South-East Tanzania Conference) and Michael Mwasumbi (TAUS)
Medical missionary work brings to humanity the gospel of release from suffering. It is the pioneer work of the gospel. It is the gospel practiced, the compassion of Christ revealed." Ellen White, Medical Ministry.
Healthcare Access in Southern Tanzania
Health services in Tanzania are among the poorest in Sub-Saharan Africa. Tanzania has only 4.6 professional health workers per 10,000 people, which is only 20% of the recommended 23 skilled health workers (doctors, nurses, midwives) per 10,000 people. Worse still, the distribution of health facilities and workers differs significantly. The Southern zone – where Mtwara municipality is located – has a high poverty rate, and its access to health services is the poorest in Tanzania (Figure 1).
The shortage of health centers in the Southern Zone of Tanzania is 84% – implying that the zone health centers available in the zone are only 16% of the recommended number. This is the highest percentage of health center shortages in Tanzania (Figure 2). Likewise, the shortage of dispensaries – standing at 69% – is the highest in the country. As expected, a Demographic and Health Survey (DHS) conducted in Tanzania showed the highest percentage of women who report that distance to the nearest health facility is the most serious health-related problem (Figure 2).
MAD is Serving the Least of These
The health facilities and services shortage is increasing in the Southern Tanzania zone in general and Mtwara Municipality in particular. Mtwara municipality population is expected to increase faster due to the discovery of enormous reserves of natural gas at Mnazi Bay – which is 40 km away from Mtwara Municipality. A new cement factory (Dangote) – has also been recently established. Tanzania also plans to upgrade the Mtwara port to become a shipping hub for the Southern Agricultural Growth Corridor of Tanzania and the Mtwara Special Economic Zones. All these developments are occurring while improvements in health facilities and services remain anemic – thus overwhelming the existing health facilities.
Accordingly, the number of patients at Mtwara Adventist Dispensary (MAD) has been increasing fast. MAD served an annual total number of 6,000 patients in 2012, but the number has since increased fourfold to 25,000 in 2023. The number of patients served per year by one health worker increased from 667 to 1,900 during the same period. Another reason for the increasing number of MAD patients is its policy of accepting insurance offered by the government National Health Insurance Fund (NHIF), which other private health providers refuse to accept due to its complex and difficult procedures of payments. To meet the needs of the "least of these," The South-East Tanzania Conference (SEC) of the Seventh Day Adventist Church is planning to upgrade the MAD to a health center status. Upgrading MAD to a Health Center will allow it to provide other services that are not amenable under its dispensary status.
TAUS Extends a Helping Hand to Help MAD Become a Health Center
One of the most important needs for upgrading MAD to a Health Center is to build a Labor Ward to serve the growing demand for prenatal, intrapartum, and postnatal care at MAD. TAUS stepped in to provide financial support to renovate and expand an old building, which has seen its best days.
The renovation is complete, and the new labor ward has started offering its services in a larger and cleaner space. The patients are happy to see their health service facility getting a facelift.
Putting a Human Face on TAUS Impact on Health Services at MAD
"The labor started, they carried the woman to the hospital, as they reached it …. the woman was shouting and crying. That nurse immediately slapped the crying woman to silence her." This is a true story of a mother in Abuja, Nigeria. A Tanzanian midwife tells a woman in labor pain, "When you were making your baby, I was not with you, keep on crying, when you die, we will come to collect your dead body…." As these true stories illustrate, physical and verbal mistreatments during childbirth are pervasive in Africa.
Shazila Hamis is a 23-year young mother of two children from Mangamba in Mtwara Municipality. While pregnant with her first child, Shazila attended clinics and experienced verbal abuse from health providers.
This made her look for other health providers when she became pregnant with her second child. She asked other mothers who suggested "Zahanati Sabato" – Sabbath Dispensary. Zahanati Sabato is a common name used for MAD. She decided to check out Zahanati Sabato to see for herself the quality of their services. When she arrived, she noticed an immediate difference in the way the receptionist and nurses treated her with compassion and in a timely manner. "When you arrive at the reception, you know the health providers are compassionate because they wear a beautiful smile and talk with you in a polite, compassionate, and professional manner. Similarly, the nurses and doctors also talk and provide their services compassionately and timely. I have gone to many health facilities in Mtwara, but Zahanati Sabato is unique." Shazila Hamis said, April 2023.
Shaban Mohammed – also from Mangamba Mtwara municipality – sent his wife to Zahanati Sabato after hearing about their compassionate and timely medical services. "My wife requested me to send her to Zahanati Sabato after she heard from her friends about the good services they offer. I took her there, and I witnessed the caring and timely services that she received," Shaban Mohammed, April 2023. You can watch the full interview here.
MAD still does not have facilities for providing in-patient services. Ms. Penuel Nyika is the senior midwife who leads the prenatal and postnatal services at the Zahanati Sabato. She is very excited about the new labor ward and is looking forward to admitting patients into the labor ward once MAD achieves the Health Center services.
She provides services to women in Mtwara Municipality and has personally known most of her patients. She takes pain in referring her patients to other providers to get services that MAD is unable to provide. "The patients keep asking me, why can't you admit me and provide all the services here? I don't want to go to other providers because I love your compassionate and timely services." But I explain to them that MAD cannot provide some services since it is still just a dispensary. I look at their disappointed faces, and it pains me. I just pray that one day, MAD will be upgraded to a health center and allow me to offer full services to expecting and nursing mothers."
Plan to Provide Health and Nutrition Services to the Entire Community of Mtwara Municipality
In addition to health services, MAD is soliciting financial support for providing healthy living education to patients – especially nursing mothers and reproductive-age women. Healthy living education – a core program in the Seventh-Day Adventist church – has been the landmark service of Adventist Health Facilities around the world. Studies in Tanzania and other African countries have also shown that Adventist and other Faith-Based Organizations (FBO) health providers reach more poor people, and their patients have higher satisfaction rates than those of other health service providers. This further illustrates that MAD will significantly increase access to health services for the poor who need it most.
All nursing and expecting mothers attending clinics will be provided with training on nutrition for children. About 25% of the out-patients at MAD are nursing or expecting mothers. This means a total of 6,250 nursing or expecting mothers will receive specialized training on child nutrition and health every year.
MAHC will hold one seminar each week and invite a maximum number of 100 participants from the public. This means 5,200 beneficiaries will receive nutrition education and healthy living training every year. The seminar will include training in the following areas:
Health – main diseases in Tanzania and prevention methods.
Nutrition – nutrition education about the daily serving of nutrition-dense foods affordable to poor and middle-income populations. The nutrition-dense foods to be considered include fruit, vegetables, and livestock products. Training will also be provided on how to prepare and preserve the foods.
Healthy living. The training will focus on the dos and don'ts of healthy living. This includes exercise that people need to do daily to stay healthy and the health effects of smoking, substance abuse, etc.
Offering community health and nutrition training will be innovative and groundbreaking initiative since there is no formal community health and nutrition education in Tanzania. The Ministry of Health provides health education to patients who visit health facilities, but it does not have the institutional infrastructure for providing education on health and nutrition to the general community. This leads to low education on health and nutrition, which in turn contributes to a high disease burden and low intake of fruit and vegetables, and other healthy foods. For example, a recent study showed that only 14 percent of mothers and caregivers in Tanzania have received health and nutrition education. Rapid urbanization and growth of middle income have led to an increase in the consumption of processed and ultra-processed foods – prepared using saturated fats accompanied with sugar-sweetened beverages. This has led to an increase in overweight, obesity, diabetes, and cardiovascular diseases. This further illustrates the importance of the trailblazing initiative of providing community health and nutrition education.
View The Photo Gallery