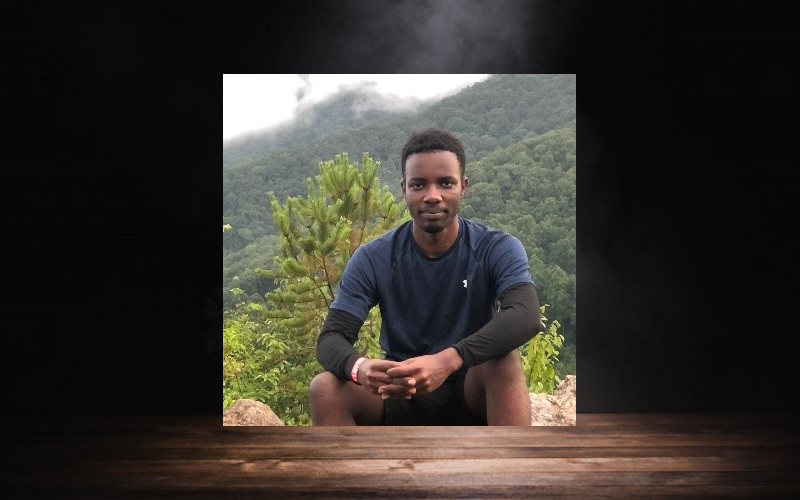 04 Jan

Mrina Mtenga – TAUS Youth Scholar

By Ephraim Nkonya
Meet the Dreamer
"The heavens declare the glory of God; and the firmament shows His handiwork." Psalms 19:1 (NKJV). To Mrina, this verse means a lot in his life as he dreams of going to space. Like Joseph, he is a dreamer, and his dream has influenced his wardrobe and academic pursuits. He shares Konstantin Tsiolkovsky bold aspiration, "The Earth is the cradle of humanity, but mankind cannot stay in the cradle forever."
Mrina dreams of visiting other planets which have not fallen to sin. Ellen White visited some planets in a vision, and she bumped into Enoch, who was also visiting the unfallen worlds. She saw beauty and majesty – so much that she begged to stay there, but the request was denied by her attending angel:
"The Lord has given me a view of other worlds. Wings were given me, and an angel attended me from the city to a place that was bright and glorious. The grass of the place was living green, and the birds there warbled a sweet song. The inhabitants of the place were of all sizes; they were noble, majestic, and lovely….. I begged of my attending angel to let me remain in that place. I could not bear the thought of coming back to this dark world again. Then the angel said, "You must go back, and if you are faithful, you, with the 144,000, shall have the privilege of visiting all the worlds and viewing the handiwork of God" (Early Writings, pp. 39, 40).
Mrina's interstellar space dreams made him choose to double major in Applied Mathematics and Computer Science when he joined the University of Wisconsin – Milwaukee. Mrina is the first recipient of the TAUS Youth Scholarship. Who is this dreamer, and what is he up to? This is Mrina's story.
Childhood and Family
Mrina was born in Dar es Salaam in a family of four children – two brothers and one sister. He grew up in an Adventist family and loved singing in church. He sang in Mbiu choir in Tandale Dar es Salaam as a young boy. His passion for singing can be seen in Mbiu choir's first DVD (Hatumo).
Mrina's parents ensured that he became a young man with Christlike morality, integrity, and a hard worker. They raised him to be active in church, so Mrina participated in the adventurers club and pathfinder club at the church growing up. This upbringing nurtured Mrina into who he is today – an upright and devoted young Christian. Furthermore, it instilled leadership qualities in him. He became a class leader in secondary school and tutored his peers who needed help in math.
Spiritual and Social Lessons Learned
Mrina grew up seeing his parents heavily involved in ministry, which motivated him to actively participate in church. His parents always taught him that God is the source of all blessings and that whatever challenge he faces, he should always call upon God and depend on Him. Mrina's primary inspiration is his mother through her journey in life. Her story of how she juggled her pursuit of higher education with motherhood was a great testament to her determination and hard work. Her success in achieving her career aspirations showed Mrina that anything is possible, even in the face of various challenges.
A character in Bible that Mrina admires is Joseph. He considers Joseph a spiritual role model because of his relentless spirit amid many tribulations. Joseph overcame obstacles through faithfulness to Jesus and having integrity in his work.
From a cold bottom pit to a cold jail floor in Egypt and finally, to the Egyptian palace as Prime Minister, Joseph never gave up. Mrina's fighting spirit is also like Nelson Mandela's – who wrote to his wife Winnie while in the Robben Island prison, "Difficulties break some men but make others. No axe is sharp enough to cut the soul of a sinner who keeps on trying, one armed with the hope that he will rise even in the end."
Career Development and Aspirations
Since he was young, Mrina has had a passion for numbers and an insatiable mind for learning new things. His love of math runs in the family, as his father and uncle are both civil engineers. Mrina's dream job involves working with data and software for sustainability initiatives. Moreover, he hopes to one day have the opportunity to write code for space programs. His professional role model is Elon Musk – who wrote his first code for a video game at the age of 12. Mrina respects Mr. Musk's innovations in renewable energy and electric cars.
Outside of academics, Mrina enjoys road trips. He loves exploring new places, meeting new people, and trying new foods. In his free time, he takes nature walks in which he is always in awe of God's creation.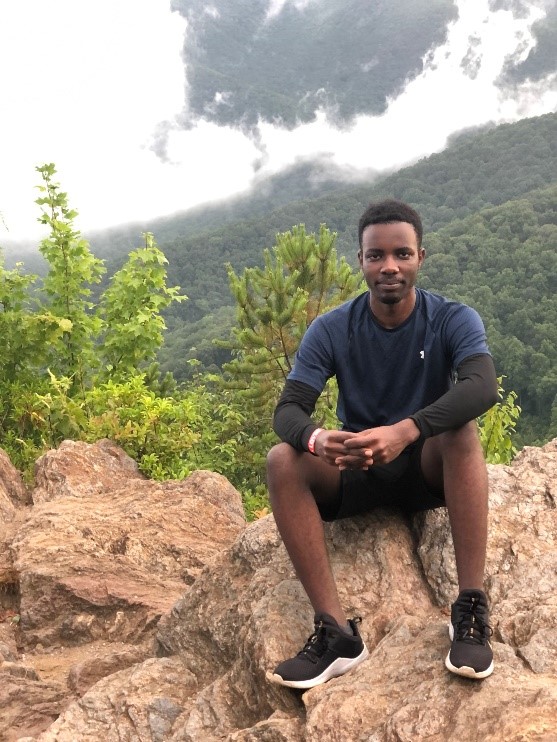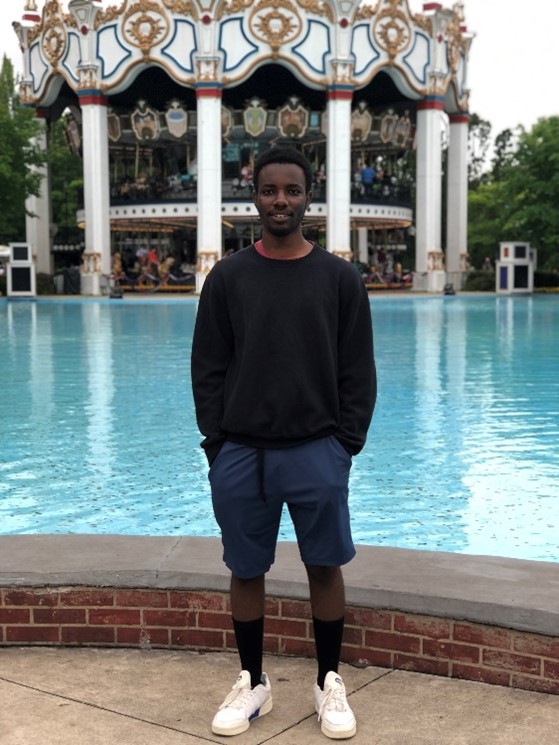 TAUS Involvement & Youth Scholarships
Mrina's aunt in Wisconsin encouraged him to be involved in TAUS activities. It was not surprising that when TAUS announced the youth scholarship, Mrina decided to apply. He wrote an inspiring essay that made him stand out and become the first recipient of the TAUS youth scholarship. The scholarship had specific criteria for selecting the winner: demonstration of leadership attributes and continued participation in TAUS. In addition, applicants were asked to write an essay that suggested practical and amenable ideas about involving more youth and young adults in TAUS activities. The TAUS leadership team was impressed by Mrina's essay and passion for ministry.
One of the constraints that TAUS faces is the low involvement of our youth in TAUS activities. When asked about what TAUS needs to do to increase youth and young adult involvement, Mrina mentioned that TAUS needs to design programs specifically targeted to the youth, as most of the current programs are targeted to adults born and raised in Tanzania. An example of TAUS's implementation of this suggestion was the youth-targeted service organized over zoom on November 26, 2022. The speakers were experts on youth and young adult topics, and their engaging and interactive styles appealed to the youth and young adults who participated in the event.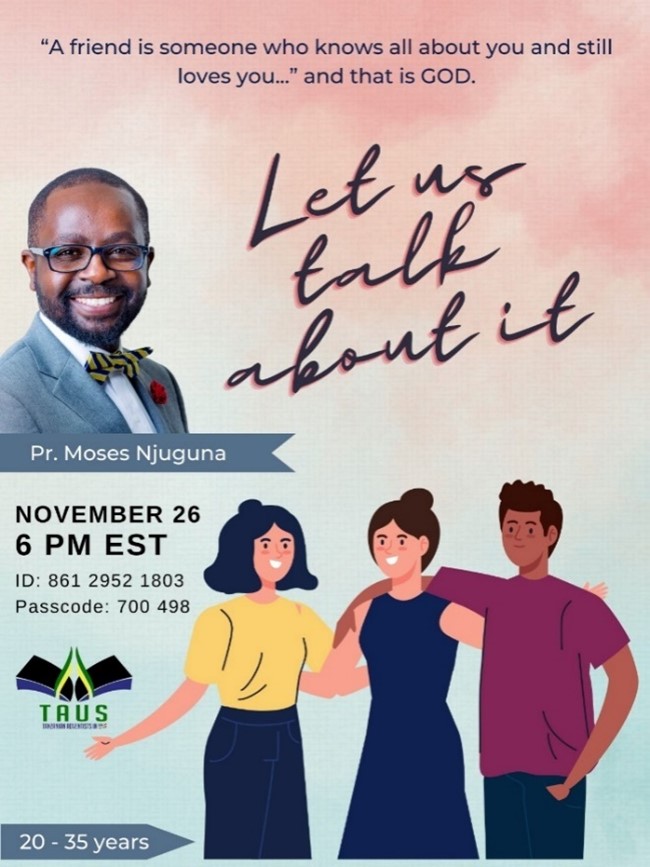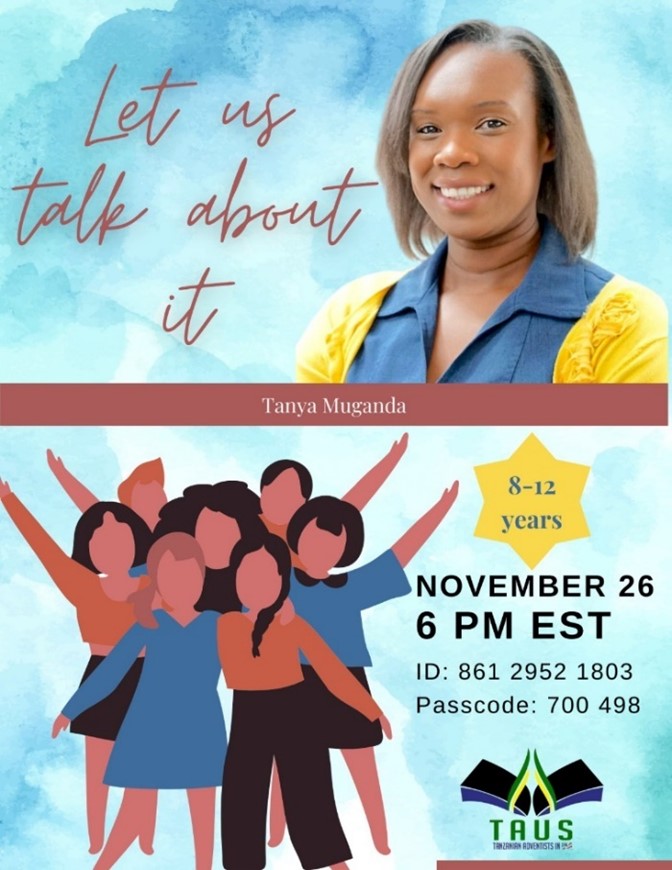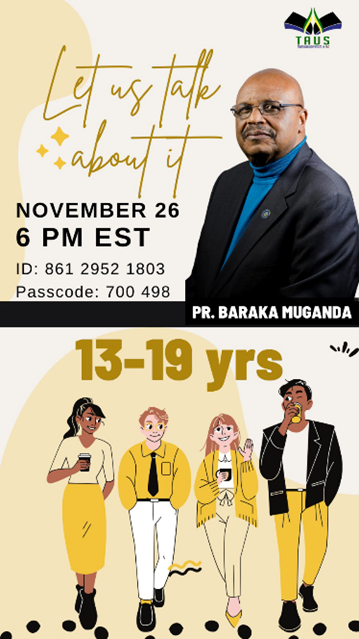 Having events for youth only – like the one done in Texas in April 2022 – could also increase youth and young adult participation.
In addition to special events, TAUS needs to take advantage of social media platforms that are used mainly by the youth and young adults in the US. Currently, WhatsApp is TAUS' workhorse as it is used in most of its communication and engagement activities. Unfortunately, most youth and young adults do not use WhatsApp. Mrina suggested that TAUS consider using Instagram, Snapchat, and TikTok to connect with them. There is also a need to have a YouTube channel. The current TAUS YouTube channel is not designed to attract youth and young adults. This is because its contents are primarily in Swahili, which is a challenge to many youth and young adults who were born or grew up in the US.
What is Mrina's Favorite Bible Verse?
Deuteronomy 31:6 (NKJV), "Be strong and of good courage, do not fear nor be afraid of them; for the LORD your God, He is the One who goes with you."