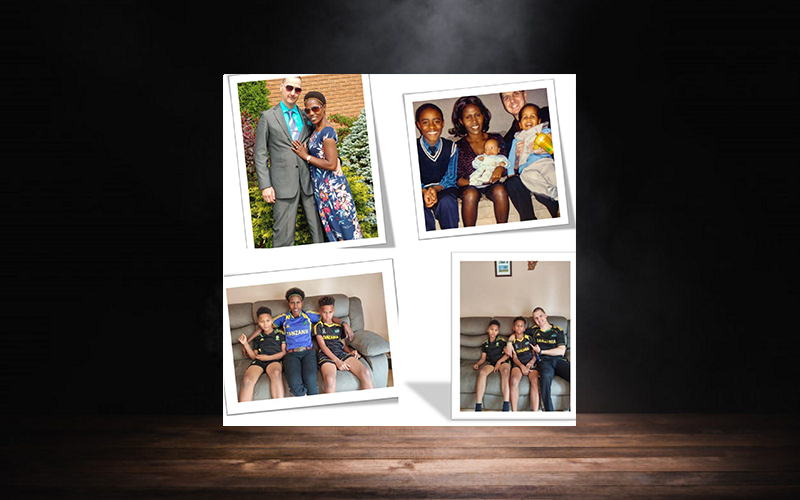 28 May

Meet Pilly and Christopher Vautour's Family

By Ephraim Nkonya

Meet Pilly, the fearless girl with indomitable will – who like Jesus – bravely challenges traditions and taboos, which limit girls' social and economic development in Africa. Meet her husband Chris, who – like Pilly – is uncorked and open-minded to not only dare live in one of the remotest places on earth, but to embrace other cultures with love and humility. Plato once said, "every heart sings a song, incomplete, until another heart whispers back." Welcome to Pilly and Chris' symphony of blessed family life
Pilly and Christopher's Childhood and formative years
Pilly was born and raised in Mwanza City by her mother Sophia Samson Gideon and father Samson Gideon Gidew – both of whom were second-generation traditional Seventh-Adventists. Just in case you are wondering why she goes by the name of Pilly, she was born on Sunday – and the name Pili is a short for Jumapili – the Swahili meaning of Sunday. Pilly's home was at CCM Kirumba stadium – where Tanzanian historic premier league games are played. It is in Mwanza where historic soccer game of Simba Sports and Yanga Sports Club was played in on August 10, 1974 – a match that is still fondly remembered by old soccer fans in Tanzania. It is not surprising that the most striking thing about Pilly is the kind of games she played when she was a young girl. Pilly loved and played soccer and her parents encouraged her to play. However, she endured dirty jokes that were and are hurled at girls who ventured into the men's "holy ground." This is one of the fearless Pilly's traits – which has made her stretch boundaries and be herself, no matter what!!! Pilly's fearless life gave her the courage to ignore those who hurled dirty jokes. She agrees with Kevin Keenoo who said "When they say you can't, they show you their limits, not yours."
Pilly loved Pathfinder and actively participated in children activities at Kirumba SDA church. She also loved singing and other church activities. Pilly's mom is one of the most conservative Adventists. She wears long dresses and a headscarf that Pilly has never seen put off when mama goes to church. Most of what she knows about the Bible came from her mother. It is from here that she learnt to be faithful, hard-working, and how to raise a Christian family.
Pilly has an interesting story to tell about her father – who worked as an equipment manager at CCM Kirumba Stadium – just a short distance from their home. Her father is a quiet hard-working man who left home early morning and showed up late at night. He would arrive home tired and in need of a shower and a flat bed. Yet he remained calm and polite to his kids – but interaction with his kids was minimal given his prolonged work schedule. One of the businesses that he oversaw was selling boiled eggs. Pilly was given the task of boiling eggs and a houseboy – who had no blood-relationship with Pilly's family – was supposed to go sell the eggs. This in fact was the small business that Pilly's mom operated out of their home. The best business days were when there was a big game in the stadium. On one big soccer game day, Pilly boiled many trays of eggs ready for the large crowd of soccer spectators. She waited for the boy to come take the eggs for selling, but the boy didn't show up until late in the day. Pilly's daddy grew impatient as they were losing money as time passed. He got so angry that he went home to find out why the boy isn't selling eggs. He found Pilly getting ready to go sell the eggs, but he was so angry that he didn't even ask any questions, instead, he slapped Pilly very hard on her face – and the pain was so hard she gave one ear-piercing scream. The slap was so hard that Pilly started hearing ear-piercing whistling sound and she started seeing stars flying in front of her. That slap has remained ingrained in her brain. It showed her father's weak communication skills with his children.
However, Pilly forgave her father and has respected and loved him even more. She has understood this unfortunate slap as a mistake that even a perfect father could commit because of anger. She has also been surprised with her father's relationship with her mom. Pilly never witnessed her father beating her mother or even arguing about anything. Her parents loved each other dearly and worked very hard to raise the family. Yes, Pilly's father is a gentle giant and a symbol of stability in the family, yet there are times that he went too far working hard and losing the opportunity to communicate with her children. This is another lesson that Pilly learned from this incident – to communicate with his children and make them your friends. This is what she is doing to an extent that her boys have made her their first girlfriend!!! Chris and his twin brother were born by a young single mother who worked in Tupperware sales. She worked hard and never relied on any form of social assistance as a single mother. The twin boys lived with their grandparents along with their mother. This gave their mother time to be able to work in order to help support them. Forget about ice hockey, Chris loved distance running and amateur boxing. He loved running and he still runs alone and sometimes with his family. No wonder Chris registered for a 5km race only four days after landing in Tanzania.
Chris' grandfather is a regimented person – highly disciplined and hard working. He taught his grandchildren the value of being ethical, disciplined, hardworking and helping others. Particularly, Chris learnt great lesson by seeing his grandfather and grandmother taking care of their grandchildren. Chris was always sensitive to social justice issues, particularly in Africa. In High School, he was a member of The Guelph Africa Network; as well as the Canadian Red Cross Society. He also volunteered for the Canadian Catholic Organization for Development & Peace. It was during this time that he even met the Canadian representative of The African National Congress Peter Mahlangu. His Aunts brother and sister both volunteered in Tanzania for the CPPS Missions (Society of the Precious Blood Fathers) a missionary group. Chris helped with fundraising for the group although he did not travel to Tanzania at that time.
Chris' role model is his grandma. After retiring from the navy, Chris' grandfather established a photo studio and his wife helped him run the business. Grandma worked very hard to run the studio behind the scene. She has very strict work ethics – an attribute that resonated very well with her regimented husband. She also worked as telemarketer, besides making sure that her grandkids have done their homework, food is cooked and the house is clean. Her dedication and hard work translated into a successful business that allowed the extended family to live a comfortable life. Chris' grandma worked until when she turned 75 years. All this touched Chris a lot and it is not surprising that she ended up being his role model.
Pilly and Christopher first encounter
There is literary nothing in common between Ngara district in Tanzania and the Royal City of Guelph. But this is where Pilly and Chris met in 2002 to start bonding that formed a very special family, which is a reflection of the beautiful diversity that we look forward to seeing in heaven – according to Revelation 7:9-10. But one very important question is how did Chris – who was born and raised Guelph in Southeastern Canada – ended up in Ngara to meet Pilly?
Christopher's first international trip outside North America was to Tanzania. He accepted a position as a Project Coordinator working for an NGO called Olympic Aid that worked in affiliation with the United Nations High Commissioner for Refugees (UNHCR). As he flew to Tanzania, Chris kept thinking about the Rwandese and Burundian refugees in Ngara camps, which hosted hundreds of thousands of refugees. Chris wasn't scared of the horrible stories that Western media portray of life in Africa.
His preoccupation was to help "the least of these" as Jesus said. He finally landed in Dar es Salaam and hit the ground running – literary!!! It was a hot day of September 22, 2002 and as usual, Dar es Salaam is muggy and hell-hot – with buzzing mosquitoes. There was a 5Km race and Chris joined and finished 11th out of over 100 participants. It wasn't easy for him to run under hot and muggy weather since he grew up in Guelph – a city that spends 160 days of the year below freezing. Chris was able to complete the 5km and returned to his hotel to take a well-deserved shower and a good rest.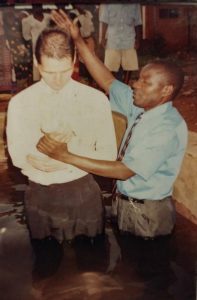 After a few days in Dar es Salaam, Chris traveled to Ngara. The following morning, he went to the UNHCR sub-office in Ngara town. The receptionist was a no nonsense girl and Chris' minder introduced her as Pilly. Chris has grasped some Swahili words and the name Pilly rang a bell – does this mean she is pili pili (red chili pepper)? Problem is, Pilly never smiled when introduced and she simply treated Chris just like another official guest. She registered him in the visitor book and ushered him to the UNHCR resident officer. But Chris was literary captivated by Pilly but very disappointed that she didn't even attempt to give a fake smile. She was a no nonsense girl and treated every visitor in a business-like fashion. Chris finished business in the UNHCR office and started going to several camps in Ngara – including Lukole, Musuhura and Kitali. He saw the desperation in the refugee camps and worked hard to help them. Being open-minded and compassionate, Chris quickly established friendship with refugees. He quickly built friendship with two refugees – Benjamin & Boaz who were both Adventists. One day, his friends invited Chris to their church in Ngara town. Though a Catholic, Chris agreed to go to the Adventist church with his new friends. Chris was in for a big surprise. The first surprise was, he met Pilly at church, and she unleashed a beautiful smile, which immediately melted Chris' heart. Pilly was taken by surprise that Chris was attending the SDA church. This discovery immediately opened Pilly's heart and she afforded Chris that beautiful smile. The second surprise was the warmth of the Adventists and the way services are conducted. Before going to the Adventist church, Chris had attended Catholic church services in Ngara, but he found the SDA church very welcoming and offered very rich analysis of Biblical studies through the quarterly lesson studies and the sermons. Chris continued to attend both Sabbath and Sunday services but he continuously leant towards to the Sabbath more and he was baptized in December 2002 by Pastor Elias Miswingi.
Pilly and Christopher's courtship and marriage
Ngara is a small town with only 8,000 people, but at one point hosted about 500,000 refugees at its peak in 1995, which was about 60% more than the whole district population of 320,000 in 2012 census. Rumors travel fast and wide in small towns. It was unusual to see a mzungu – white person – dating a Tanzanian girl, but it just shows yet another example of pair's indomitable will to break prejudiced traditions and to be free to be themselves. It didn't take long for people to notice the budding relationship between Pilly and Chris and people started trash-talking. But, following Jesus' example of breaking prejudiced and exclusionary taboos and tradition when He talked and interacted with gentiles and sinners, Pilly and Chris loved each other even more as the rumor machines continued to churn trash-talk.
Yes, Pilly and Chris' story is a demonstration of unbridled love of giving and helping other people. One anonymous person once said, "Family isn't always blood, it is the people in your life who want you to be in theirs. The ones who accept you for who you are. The ones who could do anything to see you smile and who love you no matter what."
Pilly and Chris' story is a clear demonstration of this powerful statement. It was time for the Pilly and Chris' family to know of this new relationship and wedding plans. For Chris, this wasn't a problem at all. In fact he had already met Pilly's mother when she came to visit her in Ngara when she was sick with Malaria. Although at that time, they were in the early stages of getting to know one another and were not yet engaged. Pilly was thinking how she could break the news to her ultra-conservative parents about their soon-to-be son-in-law? She postponed making the phone call, but she finally decided to call. Her heart was pounding like a sledgehammer as she dialed her phone to call mom and inform her that she has a mzungu fiancé. After the usual greetings and niceties, she finally told mom, "I have fiancé from Canada who doesn't speak Swahili and am planning to bring him home to meet you." Her mom was shell-shocked and she answered in Luo language "wololoo maiye" which means "my goodness, what am I gonna do." The father also exclaimed in Luo – showing his surprise. Again, both parents were shell-shocked but not opposed to the relationship – especially because, Chris was already an Adventist when he met the whole family in Mwanza for the first time. The marriage occurred in Ngara on April 4, 2003 and was attended by Pilly's mother.
Christopher's work assignment was ending and they wanted to initiate the Canadian Immigration process for Pilly as soon as possible. Later they had a wedding sendoff in Mwanza attended by the immediate and extended family members. They plan to have a formal wedding in Mwanza to commemorate their 20th anniversary in a couple years.
After a lengthy and somewhat challenging immigration process, it was time for the new couple to finally move to Guelph, Ontario and it was Pilly's turn to experience the culture shock, which she wasn't afraid of, given her fearless guts to stretch boundaries and Chris' support. She arrived in Guelph in May 2004, when the average temperature is about 21 degrees celsius. Later by December Pilly would be shocked to experience below freezing temperatures. The busy people who don't have much time to interact with strangers was another shock that she experienced, but only when she stepped out of her home. But with the native Guelphite by her side, Pilly quickly acclimatized to her new home. The kids arrived quickly and the family continued to blossom into a strong and loving family. They currently have three boys – Noel who is 12, Josiah who is 9 and Kelvin who is 21. The kids have visited Tanzania and the most memorable moments was to see lions and other animals in the natural habitat. They climbed mango trees, got dirty, chased chicken and enjoyed every moment they were in Tanzania.
Work Life
Pilly has settled down in Guelph and works in the hospitality industry. She enjoys providing hospitality services to her customers every day. Pilly always remembers her hard-working mom and daddy who worked so hard and instilled hard-working ethics and attributes into their daughter. She works very hard and comes home to be welcomed by a loving husband and kids.
Chris works as a farebox utility technician for the City of Guelph Transit. He started working for the City of Guelph in 2001 on a part-time basis and he became full time employee by 2005. He enjoys working in the Guelph Transit system as he could see that he helps people move around hassle-free. His ambition is to work in the area of Parks & Recreation for the City of Guelph; having completed his studies in Parks & Recreation at Seneca College in Toronto. However, after 15 years at Guelph Transit he is thankful to God for providing him with a job working for the municipality that has allowed him to provide for his family.
Spiritual life and church services
Pilly's life of service to people has been what she has been doing since a young pathfinder girl. She has translated her Pathfinder sense of service to other people into her hospitality industry. She treats everybody very nicely and goes an extra mile to serve others. She is so thankful to God who gave her a loving husband who is a true definition of love as described by Paul in 1st Corinthians 13:4-7. Chris is patient, dependable and humble like a dove. He always protects, perseveres through the thin and thick of life. Pilly's most favorable Bible verses is David's Plasm 23 – The Lord is my Shepherd…" Why, it is because God has always protected her from many dangers and has made her lie in green pastures – surrounded by a beautiful family and resident in the second safest country in the world – Canada. Though they met in the rough neighborhood and while both were busy binding the wounds of war and living through its cruel scars, God had a plan of creating a beautiful family for Pilly to have Chris as her loving husband, to have three beautiful boys who always remind her of the God's blessings. As Pilly raises her boys, she depends on God's guidance. It is not surprising that her second favorite Bible verse is Proverbs 3:1-4 – 1 My son, do not forget my teaching, but keep my commands in your heart, 2 for they will prolong your life many years and bring you prosperity. 3 Let love and faithfulness never leave you; bind them around your neck, write them on the tablet of your heart. 4 Then you will win favor and a good name in the sight of God and man.
Chris' life has been of giving and supporting others. After converting to Adventism, Chris has used his experience to support the Canadian Adventist Development and Relief Agency (ADRA) .He is the ADRA Ambassador for his church; as well as serving as a Deacon and in the Community Service department. He also thanks God for giving him a very special wife who loves him so deeply. Chris believes in what Jeremiah says in Jeremiah 29:11 For I know the plans I have for you," declares the Lord, "plans to prosper you and not to harm you, plans to give you hope and a future. He believes it was God's plan to meet Pilly at the Ngara UNHCR and what he sees in this life was that his faith is being strengthened daily by his wife being beside him, no matter what. His most favorite Bibles include 2nd Timothy 4:7 "I have fought the good fight, I have finished the race, I have kept the faith..". This is no surprise given his running hobby. His other favorite Bible verses include Isaiah 4:31. "But those who hope in the Lord will renew their strength. They will soar on wings like eagles; they will run and not grow weary, they will walk and not be faint." Well, Chris should also know this is my wife's (Leticia) favorite Bible verse. Chris' other favorite Bible verse is an entire chapter – Proverbs 6, which talks about obedience. Again not surprising given his upbringing by a regimented Navy commander.