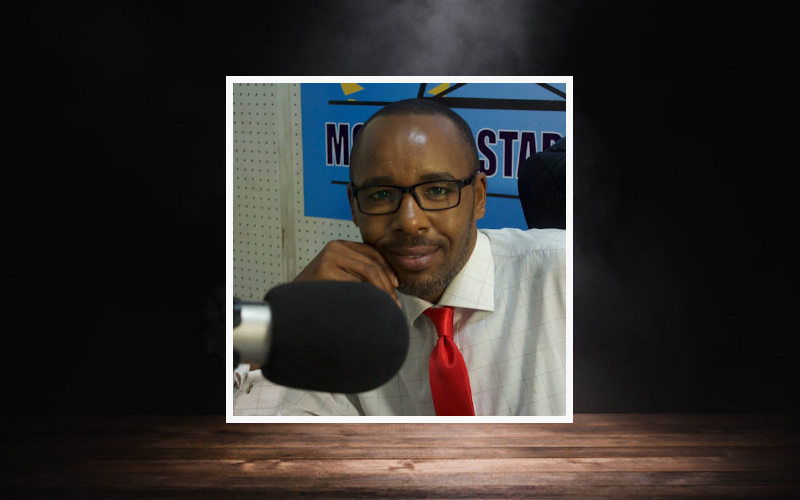 15 Apr

Meet Jumanne Maduhu

By Ephraim Nkonya

He is a soft-spoken, tall and gentle giant with a knack of sharing information, caring and innovations. He was raised in the Rocky City of Mwanza by an Adventist mother and a non-Adventist father. He is the first child of five children. During his childhood, he used to play soccer on the famous Mwanza Rock City center roundabout with a fish icon. His love of soccer is common to young boys in Tanzania, but perhaps what defined Maduhu profession is his father's love for soccer and how he used to do dry run play-by-play soccer match broadcasting to his own family. The famous teams, which Maduhu's father used to do dry sportscasting was Simba and Yanga sports clubs, which are soccer archenemies. Even though he did not have formal education, Maduhu's father knew the names of all major players of each side and would do dry run play-by-play broadcasting. Maduhu would listen carefully to the articulate, and captivating sports casting by his father, and this silently sealed Maduhu's broadcasting career interest. No wonder, his famous name is Maduhu Mtangazaji – i.e., Maduhu, the broadcaster.
Early life of Mtangazaji Maduhu
Maduhu's father worked for Lake Printing Company limited, which was owned by a Tanzanian of Indian descent. Maduhu's family lived in the same house as their employer – a life that made Maduhu develop the entrepreneurial skills – which is common among Indian people living in African countries. Growing with Indians also helped him to embrace racial and cultural diversity.
After primary school, Maduhu joined the largest and oldest Indian Secondary school in Mwanza – Lake Secondary School. In addition to city life, Maduhu occasionally lived in rural areas in Nyambeba,Sengerema, where his paternal uncle worked as a teacher, Maduhu's parents ended up buying a farm and built a house at Mkolani – which is very close Nyegezi suburban of Mwanza. Maduhu's mother and all five kids moved to Mkolani to settle permanently, but his father remained in the city.
Maduhu remembers his father for being an ultra-faithful, disciplined and hardworking man. His employer noticed his strong attribute and gave him full access to their personal property and money. They would travel for months and let him look after their properties including cash, which in some cases was stashed at home. I asked Maduhu to tell me what punishment that his father meted against him, that determined his character. One day Maduhu's father told him to go to the nearby well in Mkolani to wash cloths and return home promptly. Maduhu finished washing clothes, but instead of returning home promptly, he went to play soccer with other kids. His father got worried why Maduhu wasn't returning home? The father went to the well and found Maduhu playing. His father grabbed a stick and canned Maduhu right away without saying a single word. Maduhu returned home crying but his father never talked about the incident – as if nothing happened! It was a very effective non-verbal communication, which made a permanent lesson and an indelible impression on Maduhu's character – discipline and obedience to parents.
Maduhu's father has other strong attributes, which he has learnt from him. Even though his father wasn't an Adventist, he never took alcohol or smoke. As head of family, Maduhu's father loved his family and never argued or beat his wife – a common problem in Maduhu's community. This was surprising since his father got married to a second wife, yet there was peace in the household, which is surprising in polygamous families that are characterized by acrimony.
Maduhu's mother is the pillar and fortress against which the entire family leaned upon. She is an Adventist who grew up in Bupandagila area in Simiyu region – where the Adventist church established the first mission in the Lake zone in the early 20th century. Maduhu's mother is a conservative Adventist who wears long dresses and never goes to church without putting a headscarf. She taught all her five children the Adventist faith. She never missed church and ensured all kids prepared well for the Sabbath. She would carefully prepare for the Sabbath on Friday and have all kids wash their cloths – ready for the Sabbath day. She also cooked special meal for the Sabbath.
Maduhu developed interest in major events like efforts done by famous Adventist evangelists. One of them was Fares Muganda – Dr. Baraka Muganda's father who was then a famous preacher. Pastor Muganda held a big evangelistic effort at Kirumba SDA church in Mwanza and Maduhu attended each day. At the end of the effort, Maduhu's mother was given a perfect attendance book despite having to deal with naughty kids like Maduhu who sometimes used to ring the church bell – causing confusion for church members for the bell to go off at the wrong time. Maduhu attributes his strong Adventist faith to his mother. Maduhu's mother was also very hard working, patient and faithful woman. Maduhu learnt to be patient from his mother who spent most time with her five naughty and pesky kids.
Professional and Career Development
Even though Maduhu was inspired by his father to be a radio presenter, he had other aspirations – including being an electrician or a police officer. However, things didn't go as planned when he finished his secondary school as he ended up joining Kilosa Teacher's college in Morogoro region. But upon finishing college in 1997, the government in 1998 announced that it doesn't have money to employ teachers. Maduhu then decided to explore other jobs.
Maduhu goes to his childhood dream jobs – journalism and engineering
When Maduhu was contemplating his next steps, his friend told him that his voice was created for news anchoring. Maduhu visited the Adventist World Radio (AWR) in Morogoro to see if he could work as a volunteer. Michael Kuyenga – the Manager at AWR Morogoro – agreed to Maduhu's request. He gave him a quiz of reading a handwritten full page. Maduhu unleashed his natural anchor voice and did very well. Michael Kuyenga was very impressed and gave Maduhu a volunteer position immediately. He worked as a volunteer for two years from 1998-99 and Michael Kuyenga was his mentor. In 1999, he joined the Tanzania school of journalism under the sponsorship of Karuwa Shepherd – a Zimbabwean Adventist electrical engineer – who was working at a factory in Morogoro. Karuwa became Maduhu's friend because they were singing together and it is Maduhu who introduced Karuwa to Morogoro church and to the Singing Quartet. Maduhu finished journalism training 2000 and started writing sports articles of the now defunct Majira newspaper. But this was a part-time job, which allowed him to go to work as a volunteer at AWR. In 2004, AWR finally employed Maduhu as an assistant technician and worked under Andrew Haule – a retired aeronautic engineer. Maduhu learnt a lot about recording programs, sound mixing, maintaining and operating electronics and broadcasting equipment.
Maduhu was literary playing two very different roles – a journalist and a Programs technician – an undertaking that requires ingenuity and resourcefulness. Such double role is key to operating Radio programs in developing countries – which run on shoestring budgets. AWR established Morning Star FM Radio (MSR). Maduhu was the key person in serving both roles of journalism and Radio Technician. But he wasn't a trained engineer and there wasn't one at Morning Star Radio. Maduhu felt embarrassed when visitors would come to AWR and later to MSR and ask if there is a trained Radio engineer. Maduhu decided to get rid of this embarrassing gap. In 2007, he decided to study international diploma in computer studies and this put professionalism in both of his duties – journalism and broadcasting technician . Upon completion of the computer studies, Maduhu continued to work for both Morning Star Radio and Hope Channel Tanzania formerly known as Morning Star TV – which was established in 2014. Maduhu is very thankful to God that He helped him to bring the following innovations at Morning Star FM Radio.
● Jamii Yetu (our community) – A one hour live Program that discussed strategies for solving societal problems.
● Mambo ya Nyakati (Current affairs) – a 30 minutes program for past and current national and international news.
● Lulu za injili (Gospel Pearls) – a TV program under Hope Channel Tanzania
● Maisha na Teknohama (Life & Mobile Technology) – Program that brings news and interviews for current technology and innovations
● Morning Star Radio streaming online for live broadcasting from different locations in Tanzania and in the studio.
● Converted Morning Star from only FM Radio transmitters to satellite transmission, which increased coverage from one to ten regions of Tanzania at an affordable cost. The transmission also reached neighboring countries including four eastern provinces of the Democratic Republic of Congo
● He initiated live broadcasting for both radio and TV events at local churches – a change that transformed the live broadcasting from one studio to all churches with TV dish antennas.
Maduhu has role model journalists – including veteran broadcasters Radio Tanzania Abdul Ngalawa, Charles Hillary. Kenyan Leonard Mambo Mbotela and Michael Kuyenga of AWR. Maduhu's current broadcasters and news anchors include Salim Kikeke of Swahili BBC, the late Ghanaian BBC producer Komla Dumor and Christopher Cuomo of CNN.
Maduhu's Aspirations in Serving the Lord
Yes, Maduhu's story above speaks volume – from childhood aspirations of journalism and electrical engineering that were derailed –
landing him into teaching profession, but put back on track by yet other forces beyond his comprehension. Even though Maduhu introduced multiple innovations, which could have taken an ordinary person an entire professional life to accomplish, he isn't done yet. He has many dreams of serving the Lord. Upon moving to Houston Texas, He teamed up with a friend to establish the Sifa online Radio – whose current content is mainly commercial-free Christian songs. His plan is to transform Sifa Radio to a major programming that will cover more Christian content.
In his new role as TAUS Communication director, Maduhu plans to improve Communication between leaders and members, and between TAUS and Tanzania. He also plans for TAUS to be creating content and sending them to MSR and Hope Channel Tanzania.
Family life
Maduhu celebrated his first wedding anniversary with his bride Sule Mwasy Kisaka on April 07, 2020 – the day I interviewed him for this profile. Maduhu and Sule's story is unique in both the way they met and their current married life. I asked Maduhu, what is so special about Sule that made him choose her as his spouse and lifetime friend? Maduhu's answer surprised me. "Marriage is just a front to a much deeper friendship which is just beyond a simple marriage certificate." Sule is his best friend that he has or ever had or would in future. They talk, sing, cook and do everything together in strong and deep harmony and enjoyment that redefines marriage in a new landscape such that calling them as husband and wife does not reflect the real friendship and harmony that they have built in only one year.
But how did Maduhu meet his soulmate? It was in 2017 when he attended TAUS retreat in Columbus Wisconsin that he saw Sule. Maduhu was interviewing some people close to the registration desk when Sule arrived late at the retreat. The moment maduhu saw Sule, a faint memory flashed in his mind. He thought that he has seen her before, but couldn't remember where and when. Maduhu wanted to know a bit more about her and asked Rachel Maingu – the TAUS Texas Chapter president. He asked her if she could introduce him to Sule and if possible interview her as well. Sule refused to be interviewed, but when Sule listened to Maduhu's interview with Rachel Maingu, she felt comfortable to be interviewed.
During the interview, Maduhu discovered that he saw Sule at Magomeni church in Dar es Salaam, where students from different colleges came to sing together. Maduhu asked Sule to give him her phone number. After the retreat, Maduhu went to see his friend Kevin in Indiana from where he did investigative background check about Sule. He initiated a Facebook chat with Sule and to Maduhu's delight, she responded. At the same time, Sule was also doing investigation and background check of Maduhu. They both discovered that they have a common background in social life and interests.
Their friendship accelerated quickly and they exchanged phone number with WhatsApp capabilities. For some strange reasons, Sule again blocked maduhu on WhatsApp for almost four month. His messages went unanswered even though she continued to respond to Facebook messages. It is possible that Sule's research and background check about Maduhu was still incomplete. Line of communication accelerated very quickly after four months and they started discussing marriage and for Maduhu to move to Texas. This happened in 2018, and they got married in April 2019.
Maduhu has one simple advice to African men with male-dominated culture. Let women bloom, they will cover you and your household with a beautiful and strong fortress.
Maduhu's most favorite verse is Psalm 111:1 "Praise ye the LORD. I will praise the LORD with my whole heart, in the assembly of the upright, and in the congregation." David's Psalm reflects Maduhu's spiritual and social journey and how His loving God has blessed and protected him through thick and thin.