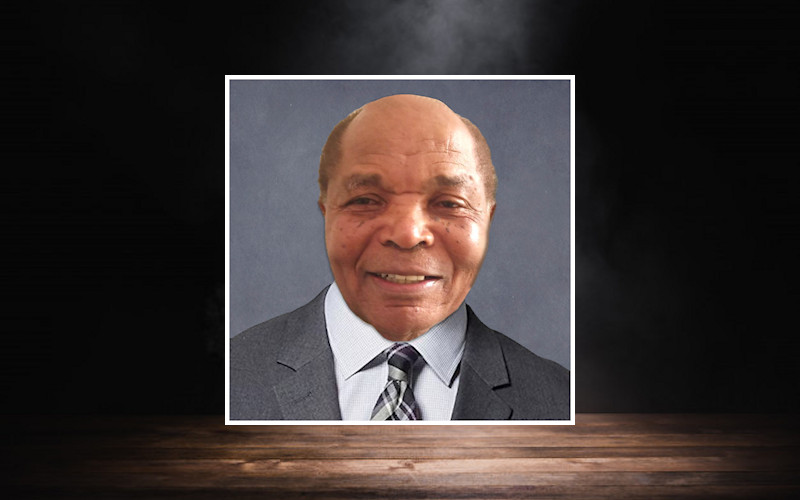 11 Feb

Meet Dr. Mishael Muze
An educationist with passion to nurture young people and Adventist institutions in Africa
By Ephraim Nkonya
Introduction
Same District has a heavy footprint of Adventism across Tanzania. The reason is simple –the first Adventist missionaries in Tanzania started their work in Same District. On November 17, 1903, Abraham Enns – a Painter and Johannes Ehlers – and agricultural extensionist – both from Friedensau Germany – arrived in Giti in Mamba and established a school – a strategy that had a lasting impact that is still felt in the Tanzania Adventist church community to date. The German missionaries planted a mustard seed in the Pare Mountains – which bloomed into a giant tree – with branches covering the whole country and beyond. Several prominent pastors that lead our church in Tanzania and the world are from the Pare Mountains. There is at least one person with Pare heritage in any urban Adventist church in Tanzania with at least 100 members.
There are children of the first Adventists who did not take the pastoral calling. Instead, they pursued other professions and livelihoods. Many Pare Adventists have played pivotal role in government policymaking process – which in turn contributed to Adventist church development in Tanzania. One of such people is Dr. Mishael Muze who was born in Suji village – about 12 miles from Giti – the cradle of the Adventist church. To Mishael, teaching is a calling, which he does for the benefit of others. As a teacher, Mishael's life follows Jesus' advice that "it is more blessed to give than to receive." Just like Mustafa Atatürk said, "A good teacher is like a candle—it consumes itself to light the way for others." Dr. Mishael Muze story is inspiring and tells a powerful story about his passion in teaching, challenges and achievements in his 42 years of public service.
Meet Dr. Mishael Muze, the Educator
He is a mathematician and it is challenging to interview him for a story is hard because his answers are short and to the point. Mishael's life is filled with calculated strategies to support young people in school and to build strong Adventist educational institutions. He was given a presidential appointment – with generous emoluments – but he turned it down and chose to remain an ordinary teacher – powerfully illustrating his candle-like attribute of consuming himself to provide light to others!! In his 42 years of service spanning from 1957 to 2012, Dr. Muze was a teacher of two primary schools, four secondary schools, two colleges and a professor of three universities. In addition to teaching, Dr. Muze served as Commissioner for National Education (Chief Education Officer) in the government of Tanzania. Under this presidential appointment, he served as a secretary of a Commission on Education System in Tanzania, which made impactful educational reforms that are still felt to-date. Talk of firsts, Dr. Muze, was the first black African to be principal of Solusi College –– an elite Christian College in Zimbabwe (now University of Solusi) and University of East Africa, Baraton (UEAB) in Kenya. But, who is Dr. Mishael Muze and where did he grow up to build a foundation for such transformative changes? His profile answers this and other questions.
Early Life
Dr. Mishael Muze was born on November 21, 1933 in Suji village to his mother Estamaria Shogholo and father Muze Shogholo. Mishael's family of nine kids – six boys and three girls – was raised in strict Adventist family, with the closely-knit social network of relatives and neighbors taking part in raising little Mishael. Mishael's father was a teacher in both Adventists and public primary schools. Mishael spent most of his childhood in Suji and left when he was 16 years old. He attended Adventist primary schools from grade one through eight. The Adventist primary schools were at Chome, Mamba, and Suji – where his father was a teacher. The most surprising episode that Mishael experienced during his primary school time was to fail grade five final examination. This episode made little Mishael hate school – and he asked his father to quit school and go into carpentry. This isn't expected from a person who would become an educator. His father's response to Mishael's request and plans was predictable – a big no, he should repeat the class. Mishael was made to repeat class five and his father got stricter to ensure he performs better – and he did. He completed his grade eight successfully and joined Ikizu Teacher Training School, where he graduated after two years at the age of 17 years.
Family Life
A Wedding is probably the best place to meet your future spouse since even Jesus performed His first miracle at a wedding. Mishael met his first wife – Siphiwe in 1964 at a wedding in New York. Siphiwe had traveled to New York from Washington DC where she was attending summer school at Howard University. Siphiwe – a Zimbabwean – was studying at the Occidental College in Los Angeles – the same college which Barack Obama attended. Siphiwe had hitched a ride from Mishael's friend – Koheleth Katondo – who introduced the two to each other. At that time, Muze was doing a summer job in New York City. Siphiwe means gift or "we were given" and she was truly a special gift, specially created for Mishael. Siphiwe and Mishael got married in 1966 in Dar es Salaam. Siphiwe and Mishael were blessed with three kids Lulu, Sipho and Tina (picture below) and they adopted Muze's Nephew, Sadiki, as soon as they were married. The Muze family flourished on its Adventist roots and educationist background as both parents were teachers. The international aspect of the family was also strongly reflected in the family.
To get to the style and approach of family upbringing, kids are the best sources of information of how their mom raised them up. According to Lulu, Sipho and Tina, Siphiwe was a loving mother, and a naturally gifted teacher. One principle that mama used to raise her kids was carrot and stick. She lovingly punished and celebrated fervently their achievement. She understood young people, and her kids grew up knowing without a doubt that she was very proud of them. She pushed them to be good people and to excel in school. She was a generous woman who went out of her way to help strangers. For example, she used to collect and donate clothes to children she didn't even know. In short, she didn't see a child who needed help, that she did not attempt to help.
These attributes were translated into her profession as a teacher. She nurtured her students as if they were her own kids. She was a secondary teacher in Shinyanga and Mwenge (Singida), Chang'ombe Teachers College, Solusi College in Zimbabwe and East African University, Baraton in Kenya. Even though she was born in Zimbabwe, she completely and perfectly blended into Tanzania's culture and traditions so much that her students thought she was a native Tanzanian. In almost all her life in foreign countries – US, Tanzania, and Kenya – she quickly built a strong and genuine bonding with people around her and supported the youth and other people. Wherever she lived, she made a lasting positive impact on the young and other people she met.
Siphiwe loved sports. At Mwenge Secondary school, she was a netball coach and her coaching skills were so good that her team reached the national championship level. At East African University, Baraton, She started an exercise class (jazzercise) for women at the campus and her training ground was her home. Siphiwe is also an author. She authored several books on troubled youth and mentored many young people by hosting educational movie nights at her home. She wrote some of her books in Swahili, further underscoring her complete cultural immersion. She did this when she was teaching at Chang'ombe Teacher's College in Dar es Salaam, which is now Dar es Salaam University College of Education (DUCE). Siphiwe became the director of the Responsible Parenthood (Elimu ya Malezi ya Ujana – EMAU), which was sponsored by the Christian Council of Tanzania.
After 26 years of holy matrimony, Siphiwe was called to rest. She died suddenly in Kenya while Dr. Muze was attending Spring Council in Washington, D.C. She left behind a beautiful family that reflects her kind and loving heart. Her three biological kids and adopted Sadiki are leading a strong Christian life and serving the Lord. For example, Lulu is Sr. Application Support Specialist at the General Conference. Sipho and his wife, Mary live in Austin, TX and are known for being counselor's to many and if there was a family position for communication manager, Sipho will be it. He talks to everyone, he gets in touch with every relative near and far. He works as Sr Engineering Technician at the Applied Materials. Tina, works for Delta Airlines and is a globetrotter of the family (takes after Dr. Muze) and currently is training for her flying license while her husband, Anthony is a Chef and Artist extraordinaire. Sadiki is a retired pilot of Air Tanzania and lives in Dar es Salaam.
Number 12 is Special in the Bible and in Dr. Muze's Family
Number 12 is mentioned 187 times in the Bible. Jacob had 12 boys who formed the 12 tribes of Israel. The New Jerusalem has 12 gates and Jesus had 12 disciples. This is just a partial list of facts associated with 12 in the Bible. Dr. Muze – a mathematician – always thinks in numbers and keeps wondering why his life is filled with blessings and sorrowful events that occurred on the 12th day of a month? Siphiwe – his first wife – was baptized on March 12th. Her high school graduation was on May 12, 1961 in Los Angeles, California. Lulu – their first daughter was born on November 12th (Swahili time) and Sipho was born on January 12th while Tina was born on December 12th, and December is the 12th month. Siphiwe started getting sick on March 12th and she died a month later on April 12th. Muze Shogholo – Mishael's father died on May 12th, 1986. Mishael has no clue why number 12 has brought him happiness and sorrow. This is one of the questions he plans to ask Jesus when he meets Him in the New Jerusalem. He will certainly visit all the 12 gates of the New Jerusalem.
Ruth Comes to Comfort and Rebuild Muze's Family
Mishael grieved the loss of his dear wife. But it was time to accept the loss and join Horatio Spafford's chorus "It is well with my soul." Dr. Muze kept attending meetings in Harare Zimbabwe – which was the headquarters of the then Eastern and Southern Division of the Seventh-day Adventist church. It is here where he met Ruth in 1993. Dr. Amani Mgeni and his wife – Nirindiwe – which means "I am being waited for" – introduced Mishael to Ruth at the Highland Adventist Church in Harare. Ruth was a lecturer of nursing at the University of Zimbabwe. They wedded on January 2, 1994. But Ruth got a scholarship at the University of Alabama in 2000 and immediately moved to Alabama – where Mishael joined her in 2001. After graduating, Ruth got an assistant professor position in 2007 at Winston Salem State University (WSSU). She has taught at WSSU since and retired in 2019. She is now running a homecare business – Carolina Classic Senior Care, LLC – which she founded before her retirement.
Want to know Mishael's attributes as a spouse? Ask Ruth who has been married to Mishael for 27 years!!! Her summary of Mishael's attributes are: blessed bonds of tenderness, kindness, understanding that bind together human hearts on earth. He is a rock-solid reliable spouse who is persistent and determined in whatever he puts his mind to. For example, Mishael prodded and convinced Ruth to do her Ph.D. degree. Spiritually, Mishael gives Ruth more compliments and credit than she deserves. And when this world throws its ugly face on Ruth, Mishael is there to provide solid-rock support and consolation. For example, when Ruth lost a close family, Mishael provided a shoulder to lean on and a comforting support that helped her weather through the storms. She sees the presence of God's hand leading all the way through Mishael's support. She says that "without Mishael I would not have overcome or had any of my accomplishments!"
Beyond spousal attributes, Mishael's lifestyle is an open book to learn from. Watching Mishael's life teaches you a lot since he is a life-long learner and highly disciplined in his diet and workout schedules. Even though he is 87 years old, he still walks 2-5 miles for at least five days per week. Like Nathaniel, He is man with integrity with no guile. For example, in 1978, Emmanuel Lusenga – who was Mishael's student at Mwenge – needed to transfer his young brother from a private to a public secondary school. He went to Mishael to seek help. At the end of his request, Emmanuel made one big mistake; he attempted to give Mishael two gallons of Okay cooking oil.
Mishael suspected this "gift" to be a bribe and he immediately refused to receive it!! Cooking oil was then very scarce and available only from Regional Trading Companies (RTC), where Emmanuel worked. Emmanuel's real intention was to give his former teacher a gift and he didn't mean to bribe him, but the timing of the gift presentation was wrong and it raised suspicion.
Professional Life
Mishael's life is teaching, nothing else!! He has taught at all levels of education: primary secondary, college and university. He has done this in five countries – Tanzania, Uganda, Kenya, Zimbabwe and the US. Mishael is a principled and well-anchored educator. He always searches for truth and shares it with others. A short discussion with him will make you agree with Dan Rather, who said, "The dream begins, most of the time, with a teacher who believes in you, who tugs and pushes and leads you on to the next plateau, sometimes poking you with a sharp stick called truth."
At the age of 17 years, Mishael graduated from Ikizu Teacher's College and immediately joined Bugema Missionary College (now Bugema University) in Uganda, where at the end of secondary education, he earned a Cambridge School Certificate. He returned to teach Science and mathematics at Suji Middle School but after only two years, Mishael returned to Bugema to teach Mathematics, Science and Kiswahili. As a teacher, Dr. Muze has excellent teaching attributes. This is especially important given that he was teaching math, a subject, which is considered tough, and many students dread. Even Charles Darwin had a joke about math, which goes "A mathematician is a blind man in a dark room looking for a black cat which isn't there." This is what Pastor Kiboko – who was Dr. Muze's math student at Suji Middle School – said about Mishael "he gave his students every reason to hope that every problem has a solution." Accordingly, all students did very well in mathematics. Additionally, Dr. Muze imbued strong spiritual characters to his students.
It is Professor Keto Mshigeni – the former Vice-Chancellor of the Hubert Kariuki Memorial University who gives a poignant picture of Dr. Muze as a teacher. Keto was Mishael's student at Suji Middle School of the Seventh-day Adventist Church in 1958. On the first day of school in grade seven in January 1958, Keto was ushered into the registration room where he found his teacher (Mishael) waiting. After respectively introducing himself to his teacher, Mishael asked him "Are you the one who had emerged top in your school at Sambweni, Mamba?" Keto was shell-shocked and deeply touched by this question, which showed that his teacher knows his students very closely. He kept asking himself "how could this famous and important teacher know the performance of one young boy while he handles hundreds of other students?"
Keto was in for other surprises from his new teacher. His math teaching style was amazing as he made the difficult subject interesting and easy to follow. He taught using simple and clear language, guiding students step-by-step to crunch difficult math problems. He also used relevant examples, which made students clearly understand and enjoy math. On the first Math test, Keto scored 96% and he was on top of his class. Mishael wrote an inspiring note on top of his paper "Very Good, Elitabu!" Keto has never forgotten this inspirational note. Yes, math is a tough subject, but it is also one of the subjects, which a student could easily score 100% if one has a good teacher like Mishael. As an illustration of this, no single student failed his math class at Suji Middle School.
Mishael got a scholarship from the Tanganyika African National Union (TANU) for his bachelor's degree abroad. He chose to go to Emmanuel Missionary College (currently Andrews University) in Berrien Spring, Michigan. He obtained his four-year first degree in 1965, but the then free Tanzania government offered him yet another scholarship for his master's degree. Mishael chose to go to California State University at Fresno and he completed his two-year master's degree in 1965.
From 1966 – 1987, Mishael taught at several government secondary schools – including Tanga Secondary School, Shinyanga Bush (Shy Bush), and Mwenge Secondary School. It was during secondary school teaching that Mishael experienced the Sabbath-keeping challenges – which Adventist students faced – as classes were running for six days – Monday – Saturday. Mishael informed the headmaster at Shy Bush that he cannot work on Sabbath day. The headmaster agreed, but after only a few months, the Chief Education Officer visited Shy Bush and learnt of Mishael's special permission to not work on Sabbath. The Chief Education Officer insisted that Mishael should work on Sabbath. The headmaster knew that Mishael will not work on Sabbath day and he might resign if he cannot get permission to not work on Sabbath day. The headmaster informed the Chief Education Officer that Mishael has verbally informed him that he might resign. It seemed the two agreed to let Mishael rest on Sabbath since the Headmaster did not schedule classes for Mishael on Sabbath day and this was the end of this challenge.
After few years at Shy Bush, Mishael was promoted to a headmaster position and he was transferred to Mwenge Secondary school in Singida region. This was a new school and according to Emmanuel Lusenga – who was then a form one student, Mishael's leadership was exemplary. During his tenure as a headmaster, hardly any student at Mwenge was expelled as his leadership ensured all students were well-behaved. The students were also served the best food than they could ever dream of having at a public secondary school. Unlike other schools, their diet included bread, milk, and other goodies, which students from other schools just dreamt of getting.
There was no Adventist church in the area during that time and Headmaster Mishael offered a classroom to be used as a place of worship. This became the first Adventist church in Singida municipality. His wife was also well-loved at school. She was a biology teacher, but she taught students jiving. Mwenge Secondary school did very well in jiving competition since she was a good and social teacher and had great songs from South Africa.
The government saw Mishael's excellent leadership and performance at Mwenge Secondary school and decided to promote him to higher position. He was offered a presidential appointment to become the District Development Director in 1973. Even though this was a prestigious position with generous emoluments and privileges, Mishael liked teaching and didn't want to do administrative duties. He prayed hard about this and made one big and dangerous decision – to turn down a presidential appointment. As expected, there was a backlash and mischief from his colleagues who shook their heads in disbelief. How could you turn down a presidential appointment? Luckily, he was not fired from his headmaster position. Instead, he was reprimanded and his salary was reduced. The reprimand letter labeled Mishael as a traitor and cited the then President of Tanzania's story of a starving village, which contributed resources and sent one their own to go look for food from other places. That person betrayed the starving villagers and squandered the money and never came back home with food.
In 1973, he accepted an offer from the Institute of Education at the University of Dar es Salaam to be coordinator of research and curriculum development and he worked there until 1978. It is during this tenure that Mishael registered for a Sandwich Ph.D. in Education program at University of Dar es Salaam and University of Leeds in England. Because he still had other responsibilities at the Ministry of Education, it took him 10 years to complete his Ph.D. program in Education in 1987. He published several books – including mathematics terminology book in 1980.
God had bigger plans for Mishael as another presidential appointment came in 1978 while he was working at the University of Dar es Salaam. The government didn't even consult Mishael about this position and he actually learned of it from the national radio. It was a big position of supervising more than 80,000 staff under seven directorates – all answerable to Mishael. A day after the announcement, Mishael reported to the Ministry and He informed the minister of education – Nicholas Kuhanga – that he would not work on Sabbath day. To Mishael's surprise, the minister said "don't' worry Mr. Muze, we are aware that you do not work on Saturday."
Mishael and colleagues contributed to making many changes in the education system in Tanzania. In November 1980, President Nyerere established a 13-member Presidential Commission on Education System in Tanzania and Mishael was the secretary of the Commission. The commission was tasked with the duty of reviewing the entire education system performance in 20 years since independence. Following the review, the commission designed strategies for improving the entire education system to respond to the new realities and to prepare the country for the 21st century. The commission completed and submitted the report entitled: "Educational System in Tanzania: Towards the Year 2000" to the president in February 1982. The president accepted most of the commission's recommendations and to-date, Tanzania's education system still follow many of the recommendations made. As a result of this and other contributions, Mishael was given a presidential Award by President Ali Hassan Mwinyi for his immense contribution to the education system in Tanzania.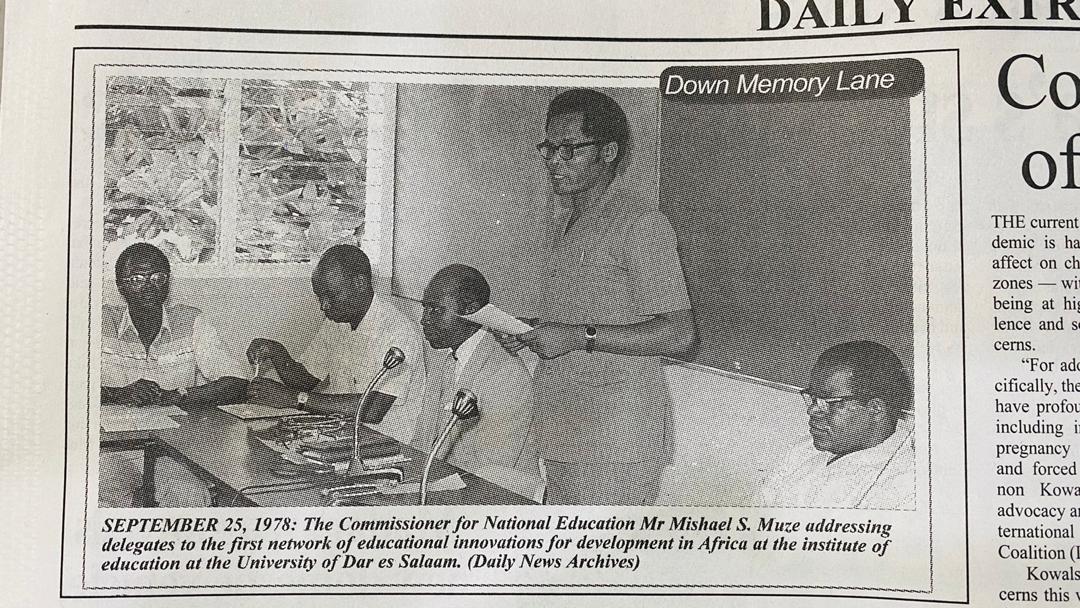 Mishael's other significant change – which was not part of the Commission's work – was to change the number of school days from six (Monday – Saturday) to five (Monday – Friday). Mishael suggested to Principal Secretary (PS) that work days be reduced from six to five days to allow teachers and students to rest and do other economic activities which would help them be more productive during the weekdays. He further suggested that teachers were overworked and students were not doing much on Saturday. He supported his argument by citing the education for self-reliance policy that President Nyerere promoted. The Principal Secretary – Mr. S Tunginie got excited and asked Mishael to write minutes to argue for the five day school days. Lo and behold, the PS and the minister of education both approved the change.
As a commissioner, he attended many important national and international meetings – all helping him to know a lot about education systems around the world. He traveled with high-ranking government officials – including the famous minister of education Tabitha Siwale.
After six years at the Institute of education and additional seven years at the Ministry of Education (1978-84), teaching was calling Mishael back. In 1985, he attended the General Conference in New Orleans, Louisiana and this is where he met Dr. Roland Mackenzie the first black person to be Principal of Solusi College. Mishael made a joke that if Roland is looking for a teacher at his college, he doesn't need to go far, he is there to help. Roland took this joke seriously and Mishael was offered a teaching position. He successfully applied for a sabbatical leave from the University of Dar es Salaam, which he got. Mishael taught at Solusi from 1987-1991, but he ended up being the first Black African principal.
During his 42-year public service, Mishael was an administrator of schools, colleges and universities. In his tenure as principal at Solusi College, and vice chancellor at University of East Africa, Baraton he was good at recruiting excellent teachers from all over the world and this increased the reputation of the university, colleges and schools he managed.
The Eastern Africa Division had a great need for a new leader at its University of East African, Baraton and Mishael accepted the Division's request to serve as its Pro Vice Chancellor from 1991-1996. Mishael was redeployed to Solusi University in 1996 and he worked there until 2001 – when he joined Ruth in Alabama. This marked the beginning of the end of his honorable service in education.
One reason for the excellent recruitment was his record-keeping attributes. He literary knew where everybody was and what that person could do. Additionally, it was very difficult to say no him because of his high reputation. Even when he retired from teaching, Colleges used to ask him to recruit teachers for them. He earned great respect at Solusi College (now Solusi University) and Baraton University – such that when he left, his absence was felt. Mishael retired in 2001, but he taught Swahili at Alabama University at Birmingham for two years into retirement.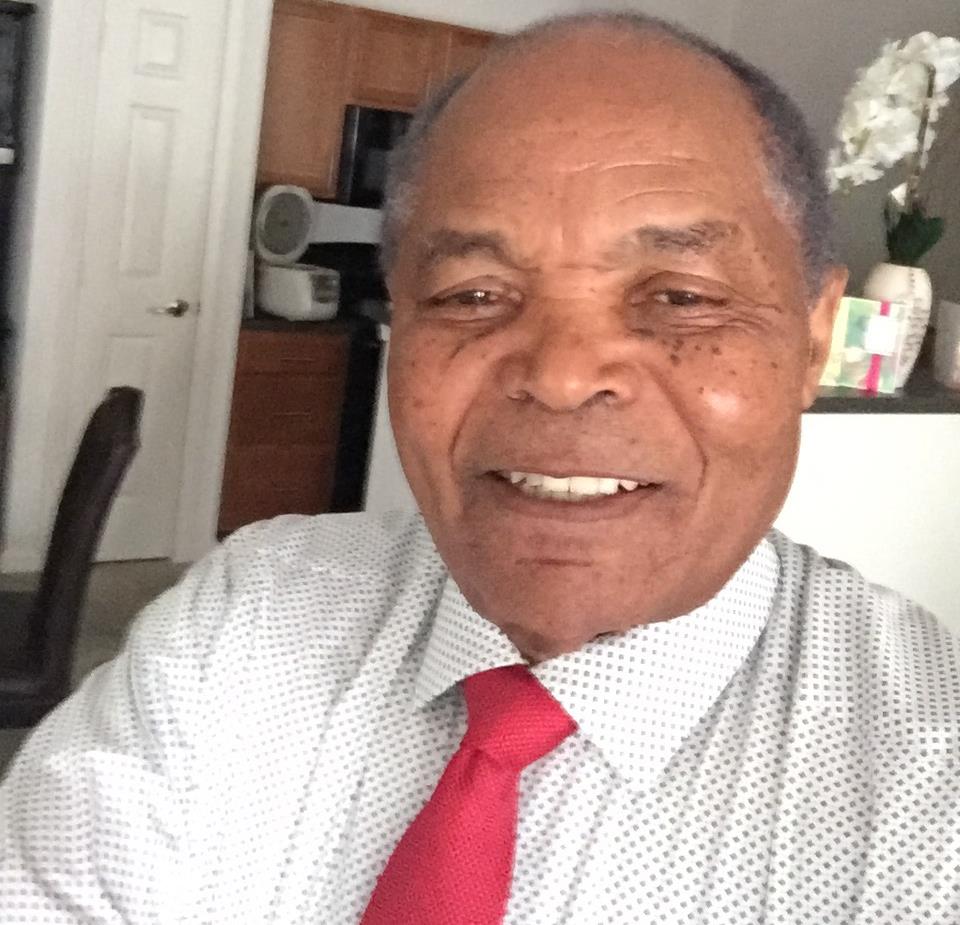 Supporting TAUS
Mishael has been supporting TAUS since its early stages of expansion beyond New England. He nurtured and provided guidance to leaders who were involved in TAUS' institutional development. For example, he was among very few TAUS members who read the entire draft constitution and gave very insightful input. He critically reviewed line-by-line the draft constitution and gave suggestions, which helped to complete the final version of the current constitution. He has attended almost all of TAUS retreats and has given constructive and insightful comments on TAUS development plans. He pokes all participants – who are all his juniors – with truth. He does not shy away from telling the truth and guide the leaders to make bold decisions.
He has several suggestions for TAUS. Mishael suggests reaching out to non-Adventist Tanzanians in the USA. For example, he would like to see non-Adventist getting invited to TAUS retreat meetings and to give presentations. Additionally, he thinks that Tanzanian Adventists in Canada, Mexico and Caribbean countries should be fully involved in TAUS activities.
Role Models & Favorite Bible Verse
Mishael's role model in the Bible is Moses, who led more than 2.4 million Israelites from Egypt to the promised land. This choice illustrates the leadership approach – which Dr. Muze used in his 42-year public service. Pastor Caleb Migombo – who was a student at Solusi College when Dr. Muze was the principal – offers interesting insight. Dr. Muze makes people feel he is on their side. This made it difficult to challenge him since he was democratic – just as Moses was – when he heeded Jethro's advice to appoint local government leaders. He was a team player and excellent at building consensus among conflicting ideas and groups. He would humbly call all the stakeholders to reason together in a respectable and objective way and this made it very difficult to walk away without consensus.
Mishael's role model in the New Testament is Peter, who was not perfect but very courageous. This demonstrates Mishael's courage in doing many things – including turning down a presidential appointment. It is not surprising that Mishael's most uplifting Bible verse is about courage: 2 Timothy 1:7 "For God hath not given us the spirit of fear; but of power, and of love, and of a sound mind" (KJV).