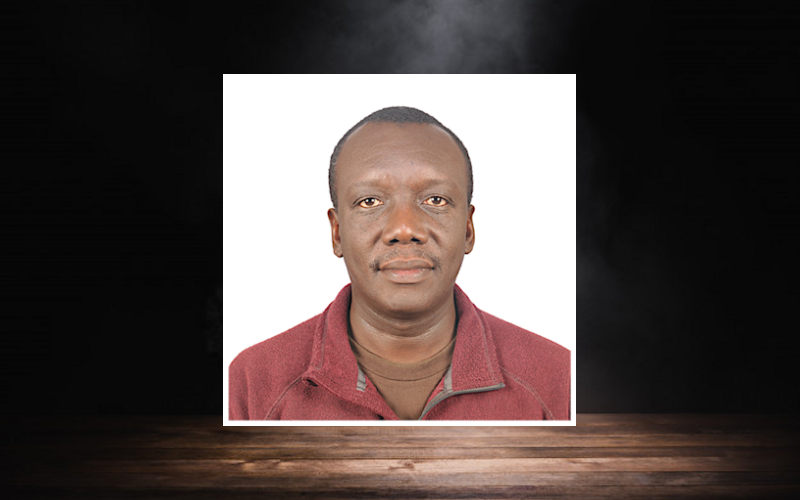 13 Jun

Meet Azza Nyamakababi

By Ephraim Nkonya
Introduction
What is the name? Early parents – right from Eve – gave names that have a meaning and have an expectation of how their children should be and behave. Professor Gordon Allport said, "the most important anchorage to our self-identity throughout life remains our own name" His name is Azza – which means "strong city" in Hebrew (1 Kings 4:24 KJV). Azza's parents chose this name and raised Azza to be a fortress and fountain of faith in his entire life. His father's name is Bezaleel. God declares, "I have filled him (Bezaleel) with the Spirit of God, with wisdom, with understanding, with knowledge and with all kinds of skills— to make artistic designs for work in gold, silver, and bronze" Azza's father lived by God's declaration as He is an electronics engineer. His mother's name is Christine. This is one of the most famous names in the world, and it is always associated with serenity, love, and all attributes of a Christian. These names' meanings have had a strong influence on the family's character – wherever they lived on earth. As Azza's parents raised their family in three countries, this allowed their children to develop a unique identity of diversity, but all rooted in Christian character as their names mean.
As a child and adult, Azza had lived on three different continents – Africa, Asia, and Europe – and this has ingrained in him a valuable diversity quality that is a key attribute to ministers. Azza's parents also ensured their kids grew up in a healthy Christian environment and nurtured them to fear and serve God. More importantly, Azza's parents taught their kids to know Jesus personally. One unknown Christian correctly said, "The most attractive quality a person can have is to love Jesus. Makeup washes off. Looks fade. A heart for God echoes into eternity." This is what Azza's parents groomed their kids to be – "Thou shalt love the Lord thy God with all thy heart, and with all thy soul, and with all thy mind" (Matt. 22:37-40 KJV).
Early Life
Azza was born on September 8th in Dar es Salaam to Christine Peter Damalu and Bezaleel Koroboi Malima Nyamakababi. He was the first child of four. Azza was a nomadic kid – who – in his formative and teenage years – lived in three countries – Tanzania, where he was briefly raised in Dar es Salaam and relocated to India in the early 1970s, where his father was studying electronic engineering. Azza attended kindergarten in India and enjoyed the Indian hospitality and sense of unity. Azza's family returned to Tanzania in the late 1970s and briefly stayed in Dar es Salaam.
In the 1980s Azza then moved to Butuguri, a village next to the Seventh-day Adventist Church missionary base at Busegwe, to live with his Aunt Deborah. It was here that Azza started his primary school education from his first to fourth grade. The humble agricultural village of Busegwe taught Azza a great lesson about modesty, farming, hard work, and generosity. He would wake in the morning to go collect water, firewood, thatching grass, and do all other domestic chores. Aunt Deborah's family grew crops and raised chickens, and – as was the case with Moses in Midian – this created an ideal environment for Azza to develop the humble Spirit of a pastor.
Azza's father got a job as an electronic engineer for the Zimbabwean government in 1983 – when the country was only three years into its independence from White Settlers.  The family relocated to Harare but without Azza, who remained in Butunguri village. Azza joined the family in 1985 and found himself in a new cultural terrain. Zimbabwe's education policies were designed to ensure the African languages are preserved and developed. One of such policies made the Shona language a compulsory subject for all primary school children. This made Azza learn a new language.
One of the things which didn't change as Azza moved from one country to another was the Christian education that he received at home and at his local Churches. In Zimbabwe, Azza's Church was Highlands in Harare, one of the oldest and largest Churches in Zimbabwe, which conducted services in English. Azza was faithful in reading the quarterly lessons, which had beautiful artistry and interactive programs designed to captivate young Christians.
The Azza family returned to Tanzania in 1988 and settled in Mwanza, and his new School was Lake Primary. But the family stayed in Mwanza briefly and moved back to Dar es Salaam in 1989 – hardly one year after coming to Mwanza. Azza's school in Dar es Salaam was Mlimani Primary, one of the best public schools in Tanzania, where children of university professors attend. Azza completed his Primary School at Mlimani, after which he joined Azania Secondary School for the ordinary level classes and then Tambaza High School.
The Azza family returned to Tanzania in 1988 and settled in Mwanza, and his new School was Lake Primary. But the family stayed in Mwanza briefly and moved back to Dar es Salaam in 1989 – hardly one year after coming to Mwanza. Azza's school in Dar es Salaam was Mlimani Primary, one of the best public schools in Tanzania, where children of university professors attend. Azza completed his Primary School at Mlimani, after which he joined Azania Secondary School for the ordinary level classes and then Tambaza High School.
As expected, Azza was active in the Adventist Secondary School Association (ASSA) activities. He also participated in the Pathfinder Club and Adventist Youth leadership roles.
Professional Life
The authentic Christian upbringing in Nyamakababi's family saw Azza spending more time at Church perhaps more than anywhere else.  Azza didn't even balance his time with other activities, which would generally take up a great deal of time for most of his youth. Now, it was time to choose the profession. His father was his role model, and Azza always wanted to be an electronic engineer – like father, like son. But Azza felt a gentle tugging of the Holy Spirit to take a different route. He felt a nudge to be a Bible teacher. He prayed earnestly to receive clear guidance on his professional career. That gentle nudging of the Holy Spirit persistently continued prodding him to be a Bible teacher. The trouble was, there was no degree in Biblical studies major in Tanzania. Instead, the religious curriculum framed students to become pastors and not solely Bible teachers.
Azza accepted the Holy Spirit's call to become a pastor. He took Theology undergraduate at the East African University Baraton for four years, after which he worked in Botswana as a Colporteur – literature evangelist.  Azza worked in Botswana for 75 days and then returned to Tanzania and was employed by the Mara Conference as the Nyansincha Secondary School Chaplain for a year.  As he served as Colporteur and pastor, Azza's passion for teaching the Bible led him to take a Master's in Theological Studies at Newbold College in the United Kingdom, which he completed in March 2005.  He then took a Post Graduate Certificate Education (PGCE) Degree at Roehampton University in London, emphasizing Secondary School Religious Education.  As part of his practical training, Azza taught secondary education kids in Kings College in Surrey (UK) – where the culture and resource endowment is quite different from developing countries where he had lived. This new environment gave Azza an even deeper multicultural experience.
The second school that Azza taught in London was Langley Grammar School in Slough (UK) – which, one of elite schools in which students are admitted based on their high performance. Additionally, the kids were from wealthy parents. These two attributes exposed Azza to yet another learning environment. Unlike the first school where kids didn't study hard, the new school kids were hard-working, intelligent, and well-disciplined. Azza would stand in front of these kids and discover that they had completed their homework and other assignments in their syllabus even before he had completed teaching the subject.  This new experience fulfilled Azza in teaching. This new experience fulfilled Azza in teaching and reinforced the idea that the student was the center of the learning process.  Azza returned to Africa in 2008 and accepted a position as a lecturer of Theology at Bugema University in Uganda, where he taught students from many African countries.  Nomadic Azza stayed in Uganda for only one summer semester, after which he moved back to Tanzania, and he accepted another teaching position at Arusha University in 2009.
Teaching theology gave Azza an ultimate satisfaction as he achieved two things simultaneously – teaching the Bible and ministering to his students and communities around the university campus. However, his dream job of teaching Bible studies was short-lived. In 2010, he got appointed as the Coordinator of the University of Arusha at its Mbeya Branch. In 2013, Azza was appointed as director of Chaplaincy Ministries of the North East Tanzania Conference (NETC). In 2014, Azza decided to do a Clinical Pastoral Education (CPE) at the Kilimanjaro Christian Medical Centre (KCMC). Azza is an over-achiever. As if all the studies spanning for about 40 years, from kindergarten in India in the mid-1970s to postgraduate studies in Britain and East Africa were not enough, Azza accepted a scholarship award for a doctorate in 2017 at the Adventist University of Africa. He finished all his classes and is now an ABD (All But Dissertation) student. God willing, Azza will soon complete his research and change his position to Dr. Pastor Azza Nyamakababi.
In 2015, Azza was appointed to be Executive Secretary of the Western Tanzania Conference.  This is the position he is still holding today.
Innovation
It is not surprising that Azza's vast learning experience acquired over seven countries (Tanzania, India, Zimbabwe, Britain, Botswana, Kenya, and Uganda) – spanning over three continents – has created a prolific innovator.  Azza wishes to transform the way the Seventh-day Adventist Church runs its in-house business to maximize the efficiency of its mission activities.  Azza introduced the paperless pastoral and non-clergy employee daily functions.  He has introduced electronic forms which are utilizable anywhere with internet connectivity. The following weblinks illustrate Azza's innovations: http://bit.ly/e-tathmini (Employee Appraisal Tool), http://bit.ly/Ruhusa (Personal Permission Tool), https://bit.ly/WTCLikizo (Annual Leave Request Tool), http://bit.ly/utunzaji (Nurture and Retention Tool), http://bit.ly/swahilibook (Downloadable Employee Handbook),  http://bit.ly/wahudumu (Service Request Tool), https://bit.ly/SeminaTathmini (Seminar Evaluation Tool), https://bit.ly/ConStat (Conference Status on-Site Evaluation Instrument), etc.  All these are the initial innovations, but Azza is in the process of designing android and iOS apps – which will improve even more pastoral and laypeople activities working for the church.  These innovations will significantly reduce travel costs and improve the efficiency and the curation of church records and documents.
Family Life
As Azza crisscrossed the world, there were inevitable questions that repeatedly crossed his mind – but he pretended to ignore them. Who will be my wife? When will I get married? Azza was growing into adulthood, and his parents were also asking those questions, when will we be blessed to see our daughter-in-law? Naturally, Azza started earnest prayers – asking Jesus to show him his wife the way He did to Eliezer, who was looking for Isaac's wife. God always answers these genuine prayers with certainty – just as he did to Eliezer –unmistakable response.
In 1996, Azza travelled to Arusha to look for a school for his young brother Aanja. On Sabbath day, Azza planned to worship at Njiro Church – at the then Tanzania Union Mission campus. It was his first-time worship at this Church. As he walked to church, he felt a gentle nudge of the Holy Spirit to go to the youth class during the Sabbath school session. He arrived at church just before Sabbath school started and was ushered in church by ushers wearing smiley faces. This was Azza's first time in Arusha and the only family he knew was the Mukundis who were his host. But he felt at home immediately as church members were welcoming and warm and pleasant to everyone, especially guests. Then Sabbath school quarterly session came, and he naturally went to the youth Sabbath school class, where he saw several persons who contributed to the discussion. But there was one peculiar girl. Again, the Holy Spirit was nudging Azza to pay more attention to this girl. Azza noticed she carefully chose her words and contributed rich messages from the lesson under discussion. This girl left an indelible impression on Azza's heart, but he didn't know who she was. He felt the Sabbath school lesson study was too short as the bell rung – nudging everyone back into Church for the main Church service. Azza kept remembering girl's soft words during the Sabbath school session. But it was now time to concentrate on the main service. Unfortunately, Azza had to return home in Mwadui Shinyanga the following Sunday.
A few months in the same year (1996), Azza attended the East African higher learning Adventist Student Association meeting – which was taking place at the current Moshi Cooperative University (MoCU). Azza was pleasantly surprised by that girl who touched his heart at Njiro church Sabbath school class. He got to know her name as he was now paying full attention to this girl. Her name is Rachel, the daughter of Pastor Lameck Mwamukonda. Rachel was at that time an O Level student at Kamagambo Secondary School in Kenya. While the Holy Spirit was gently nudging Azza to establish a relationship, this time, His promptings were stronger and had a sense of urgency – "make moves now." The moment Azza saw Rachel, he got a strong urge and confidence that she was the one that the Holy Spirit had chosen to be his wife. He remembers even the clothes she was wearing when they met at MoCU. She was wearing a white sweater and a blue skirt. The Holy Spirit meant business and gave Azza the confidence to make the first advance. He asked to talk with her, but to Azza's crushing disappointment, she refused!!! He felt embarrassed and awkward after this apparent "rejection." He again prayed; asking the Holy Spirit to guide him to his future wife. The retreat wasn't as exciting as Azza had hoped when he saw Rachel. He made sure they were not establishing eye contact or in the same small group. The retreat at MoCU ended, and everyone went back home.
Rachel seemed to have given serious thought to Azza's request for a talk. She went and confided with her sister about her encounter with Azza. The old sister talked Rachel into writing to Azza.
She wrote an 8-page, carefully hand-written letter. All the commas and periods were in the right places, and not a single misspelled word. More importantly, the hand-written cursive letter was full of wisdom and grace. Rachel mentioned the name Azza on more than eight separate paragraphs. In her letter, she accepted Azza's proposal and wrote other spiritual messages that illustrated her dedication to Jesus. After receiving this letter and reading it, Azza fell to his knees. In the story of Eliezer who had prayed to God to show him Isaac wife and the prayer was answered even before he finished praying. Eliezer's thanksgiving to God for showing him vividly His choice of Isaac's wife was "…Blessed be the Lord God of my master Abraham, who hath not left destitute my master of his mercy and his truth: I being in the way, the Lord led me to the house of my master's brethren." (Genesis 24:27).
Likewise, Azza fell to his knees after receiving Rachel's 8-page letter, and he thanked God for unmistakably showing him his future wife.  He met Rachel at her home in Njiro, and they both sat under a tree and read the entire 78th chapter of The Desire of Ages by Ellen G. White. The chapter is about "Calvary."
Rachel is a virtuous wife who is well-described by Solomon Proverbs 31:10-31. These virtuous attributes are illustrated by what she has done and touched Azza to the core during their courtship. Given her father's position in Church, Rachel would have gone to do her university studies anywhere in the world as pastors kids get financial support from the Church. Rachel also did very well in her studies and qualified her to study at prestigious institutions worldwide.  Yet, she decided to join the humble Tanzania Adventist College in Arusha, where Azza was studying. Azza was shocked at the sacrifice Rachel made to make sure she was by his side.
The second surprise came when she got an opportunity to study in the United Kingdom. Rachel remained in relationship with Azza and waited for two years until Azza got the chance to go study in the UK.
After eight years of courtship, Rachel and Azza entered into Holy matrimony on April 18th, 2004, at Mwenge Seventh-day Adventist Church in Dar es Salaam.
A third act, which placed a deep mark on Azza's mind and heart, occurred in the UK at the end of their studies in 2010. Rachel had an opportunity of remaining in the UK to work and make good money. Azza asked Rachel to decide whether she would stay in the UK or return to Tanzania.  She immediately shot back a firm and emphatic response– "I will go home with you to serve regardless."  This response illustrated her true and selfless love, and it deeply humbled and encouraged Azza that she is the prudent wife handpicked by God. "House and riches are the inheritance of fathers: and a prudent wife is from the Lord." (Proverbs 19:14 KJV). Rachel simultaneously forfeited her social and financial status for the sake of love and family.
Azza believes spousal relationships are associations that require deep humility from both parties. Azza believes spouses should seek experiences that maximize their joy in the world in preparation and anticipation of the everlasting life. Males and females anticipating future spousal relations would do well if they individually sought to be in a deep relationship with God and honor Him.  The deeper the relationship with God, the deeper their chance to relate with another.  Dietrich Bonhoeffer once said, "humans are not able to relate directly with one another.  Their chances to relate best with the other is rooted in an ongoing relationship with their Creator". This is well-reflected in Rachel and Azza's family.
Azza's favorite Bible text is Jeremiah 9:23in which God clearly conditions His sphere of existence relative to human domains of reality:
"Let not the wise man glory in his wisdom,
Let not the mighty man glory in his might,
Nor let the rich man glory in his riches;
But let him who glories glory in this,
That he understands and knows Me,
That I am the Lord, exercising lovingkindness,
judgment, and righteousness in the earth.
For in these I delight," says the Lord."
This text reminds Azza of the state of humanity in which he exists. There is no single reason that suffices any action of a mortal being, one action that validates self-importance.  Wisdom, power, and wealth represent stuff that deviates human minds to behold themselves as a centre of affection. The text challenges Azza to seek after God and make Him central in his life.
TAUS Work and Azza's Advice
TAUS has sponsored several pastors from the Western Tanzania Conference and this sponsorship has greatly helped to alleviate the severe shortage of pastors. Some of the TAUS scholarship recipients have challenged Azza daily in his Secretariat role.  To achieve its mission, Azza thinks TAUS should extend its support base to include equipment and software that builds up on the Pastoral role.  Additionally, TAUS may also facilitate the support Pastors in-service training utilizing online learning platforms such as www.udemy.com, www.edx.org, www.coursera.org.  This in-service learning will enhance the pastoral performance in Africa, a region where church membership demographics are changing fast. Adventist churches are becoming a place of worship for a growing population of middle-class-income and well-educated Church members. This poses challenges and opportunities to old pastors with limited education and exposure to the new membership demographics. TAUS needs to find ways of supporting in-service training for pastors to help them exploit the new opportunities and address the challenges that are arising from the ever-changing Church demographics.