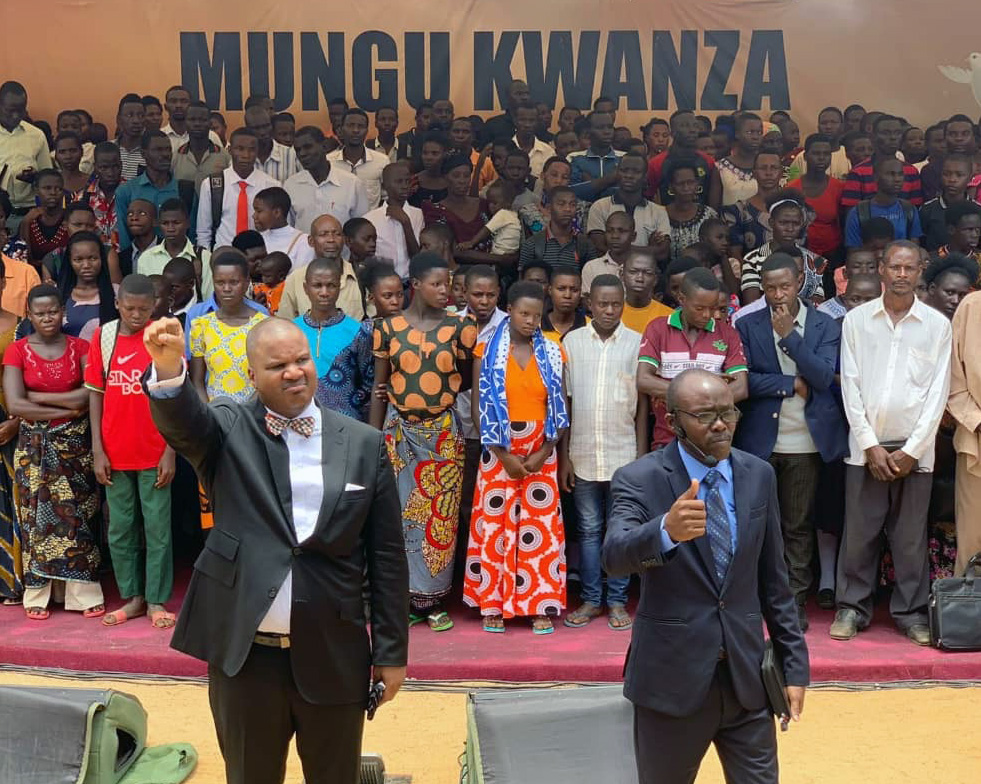 09 Apr

God First (Mungu Kwanza) Evangelistic Effort, Chato Tanzania

A Three weeks Satellite Net Event, conducted at Chato Geita, Tanzania, with the main speaker Dr. Pr. Carlton Byrd from Breath of Life, has ended with the harvest of  15,556 people for Christ.  The Satellite evangelistic event started on February 15 and ended on March 7, 2020.

Being a speaker for two weeks, Dr. Byrd, captured the audience by using a  Swahili greeting, then he later preached a "Straight- forward message lifting Jesus" as said by Dr. Pr. Ngusa, who was following from Arusha via satellite.

On his remarks responding to an Interview, Dr. Byrd said; "This is my first trip to Tanzania specifically Chato,  even though I had come to Africa before  for other occasions but this has made an impact seeing massive people responding to Jesus' call.   I am so grateful, the Lord has blessed beyond my dreams and imagination. The attendance has been phenomenal, more than 3000 people, and over the weekend a large crowd of more than 7000 people, listening to Jesus, I pray that this message may transform everybody.    We have had a wonderful host, I want to say to my friends particularly black Americans. It is  wonderful to be here in Africa,  our roots, motherland, heritage, ancestry, to be able to rub shoulders, to network and connect with our brothers and sisters, because though we are in different places we praise and worship the same God".

During the cause of the effort, we have had so many people witnessing. Happiness Marietha Steven (68) who has been following from her home through a television said; "I have read the Bible for about a decade and remain in suspense. This meeting has led me to make a decision.  I just found the program running on the Television by luck and at the time I was able to follow the Bible reading with the help of my torch since my eyes can't read during the night".   "I came across the advert on social media, then I said to myself I must go to attend" Said Shukrani Kiondoka who travelled about 205 from Muleba Bukoba to Chato for baptism.

The three-weeks satellite Net event was initiated and sponsored by The Association of Tanzanian Adventist Professionals and Entrepreneurs (ATAPE) and Tanzanian Adventists in USA (TAUS). Freddie Manento, the TAPE chairman explained that the first week of the event began with provision of health services, which was followed by two weeks of sermons and spiritual healing.

"We have had another great experience since we started sponsoring satellite net Events.  It's our first time bringing net events at a district level but the results are amazing.  We started with a week health expo, whereby more than 3000 patients were served.  We have discovered that people had health problems more than we thought,  the health services were provided for free, thanks to ATAPE members who paid for the costs associated with doctor, treatment, medicine and operation."

Dr. Michael Mwasumbi the Chairman of Tanzanian Adventists in the United States of America (TAUS), which sponsored the TV and Radio airtime of the event, said; "I am very grateful for witnessing the success and the fruits of our joint effort toward Chato 2020.  With this number of growth, we are seeing the duty ahead of nurturing them.  We as Tanzanian Adventists in the USA, have extended sponsorship of 11 theology students to pursue their degree so they may come and nurture the new Church members".

On his side Dr/Pr. Godwin Lekundayo the president of Northern Tanzania Union Conference said, "We are amazed by God's miracle, we had doubts, knowing Chato is in remote areas, but we are surprised by the crowd of people responding for baptism.  We thank God for the powerful preacher Dr. Carlton Byrd from the Breath of Life in the USA for accepting to come and being the preacher. We have had a lot of testimonies in the country and out of the country, and we thank God for the thousands of souls for Christ".

Chato 2020 Satellite evangelism with a slogan of 'God First' was broadcast live from Chato, with about 3500 receiving stations countrywide through television and radios. Neighboring countries also reported to have been following via satellite and social network platforms.  Chato Geita Tanzania, is home town of the current President of Tanzania Dr. John Pombe Magufuli and as the meeting was concluding, he sent an offering of one million Tanzanian Shilling (TZS) – equivalent to US$432.  Let us pray for the newly converted members to grow spiritually and remain firm for their Lord.

Read more at https://www.nadadventist.org/news/breath-life-evangelistic-revival-leads-more-15000-baptisms-tanzania.